News
Oct 15, 2001 New Film 'Inner Senses' Begins Shooting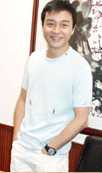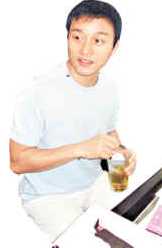 After a long holiday, Leslie starts shooting the new film 'Inner Senses'. On 05 Oct, himself together with other actors and actresses have carried out the film opening worship ceremony. As Leslie will be a psychiatrist in the film, to match the role, he has his hair cut short. Although he has to get up early in the morning, yet, he looks to be very energetic and ready for the filming.

When the reporters asked if he has consulted psychiatrist before, he laughed and said no, but he has some knowledge about this field as some of his friends are psychiatrists.
Oct 17, 2001 Filming in Macau (from Mingpao)
from Mingpao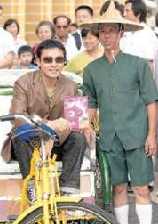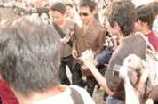 from TheSun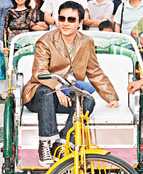 Yesterday (Oct 16th), Leslie went to Macau to film 'Inner Senses'. In order to show their warm welcome, Macau representative has arranged a three wheel rickshaw and a 'Macau welcome you passport' for Leslie. Also, they have sponsored the filming team to stay in the local hotel.

They will be filming in Macau for one week. Leslie will act as a psychiatrist. When reporters asked if Leslie has got 'worries in mind', Leslie laughed and said no.

Leslie also said this is only the second time he has been to Macau over the last ten years. Last time he went their with friends to celebrate a girl friend's birthday, this time is for filming.
Remarks:
Leslie, sounds like you don't go to casinos? heehee... Sounds good!
Going to casinos might not be a bad thing, as long as one only treats it as an entertainment and not investment!!
Oct 17, 2001 Film Director (from The Sun)
Since last year's 'Ashes in Ashes', Leslie hasn't produced new films. He said he has liased with Cheung Ngai Kar to produce a new film some time early next year. There will be three stories in that film, one of which will be a comedy which Leslie will be the film director. He said he will not act in that film.
Oct 18, 2001 Filming in Macau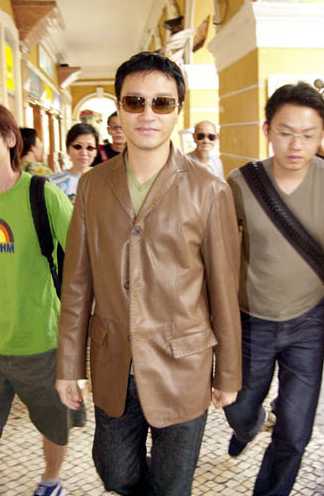 Oct 28, 2001 CASH Music Prize Ceremony (from TheSun, Orientaldaily)
from OrientalDaily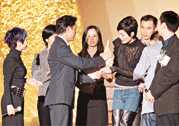 from TheSun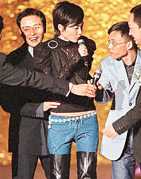 CASH Music Prize Ceremony took place in the Convention Centre in Wanchai the day before (26Oct). Leslie has been invited as special guest to present prizes.

During the ceremony, Leslie poked fun on Commercial radio prize as 'bull-shit' when compare to the one presented by CASH. Leslie said '.... really regret that I said in the press conference that I will not be getting prizes, now this prize really looks like shark fin to me! Unlike those shitty prizes offered by xx radio......'

Leslie then teased Faye saying '.....I have never seen Faye so happy in prize ceremony, normally she only gives smile to Tse, this proves how important this prize is!....'

Leslie also teased Chan Kit Ling saying '..... Chan is one of my good friends to play majhong with, in normal days, she seldom dressed up, today, with that super-good bra, does look charming!...' After saying that, he used the rolled-up scripts to pad on Chan's bra, then said '....oh, the bra has sound! ....' Everyone laughed.
Remarks:
emm... Leslie, you are naughty but amusing indeed! heehee...
Oct 29, 2001 CASH Music Prize Ceremony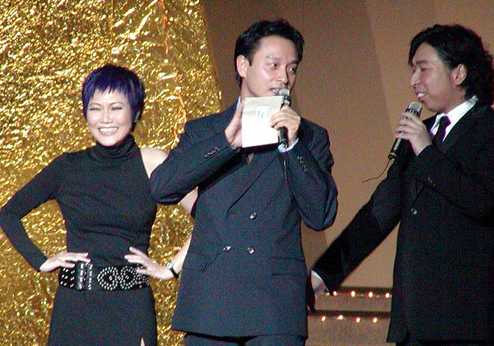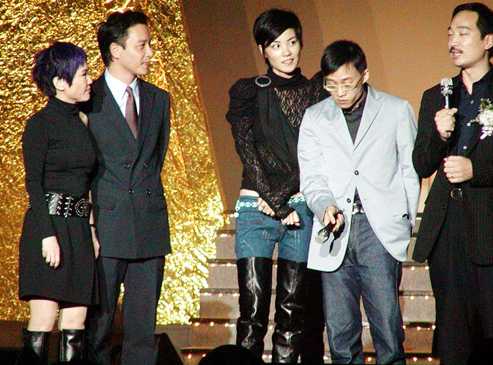 Remarks:
Leslie, you look very handsome in your suit!