News
Nov 2, 2001 Wan Ah Tin Mok Cup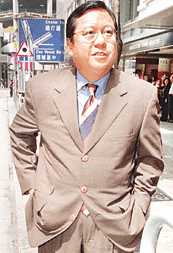 Lam (photo) is going to sponsor the 'Wan Ah Tin Mok Cup' and invite lots of stars and famous people to take part in the two days event on Nov 17th, 18th. Through this event, he hopes to increase the entertainment market spirit.

On Nov 17th, a big party will be held to celebrate the forth-coming event. Leslie and some other famous people have been invited as special guests. On 18Nov, everyone will gather in Macau where there will be a car show on the Grand Prix runway.
Remarks:
Car show!!! Wonder what sort of cars?? Classic? Sports? Hopefully not Ferrarri again! I have seen too many of those.
Having said that, a few months ago, just been to Italy for a weekend break to see the Grand Prix. Anyone wants good tickets for Grand Prix? We are one of the main sponsors! Our company sponsor one of the teams, guess which one? heehee...
But to Chinese, Monaco might be better, as after watching the car race, can to go the famous 'old' casino! A good place for those who don't know what to do with the spare money! haha!!
Nov 4, 2001 You must be kidding!
Recently, an Australian film investor is interested in buying the copyright of 'A better tomorrow'. A famous film in the mid-80s directed by John Woo, with Leslie, and Fat as the main actors. The Australian investor intended to have Fat and Leslie to play the beginning part of this new version.

Leslie refused and said, '... want to have us in that new film? He can dream about it! No need to consider at all.'

Leslie also laughed and said, '... they are willing to pay us so much, yet, it's not playing the main roles, don't you think that's ridiculous??...'
Remarks:
Leslie, I support your comments!! Their demands are just ridiculous and out of question!! Although personally I do believe that it's a good thing to have new challenges outside Asian market, yet, it's good only if one is being treated fairly.