News
May 8, 2001 Leslie Cheung in City Magazine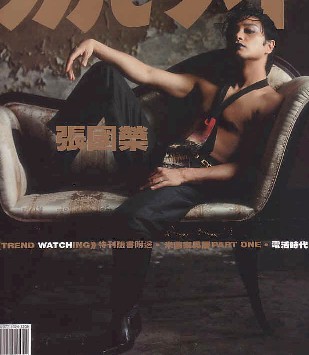 Leslie Cheung as front page model in City Magazine.
Remarks:
In this particular posture and make-up, looks like Leslie is portraying a unisex image (male and female in one)? Am I right?
May 9, 2001 Tung Wah Hospital Charity
Leslie has donated lots of clothes to Tung Wah hospital 'Famous People Second Hand Clothes Sale' charity.
Remarks:
I like kind hearted people like you, Leslie!
I like the white shirt with lace in middle that you donated! I wish I were in Hong Kong tomorrow, then I might have a chance to get it in the charity auction! Soop....oop...oop.......
May 21, 2001 Attended Opening Ceremony in Singapore
from OrientalDaily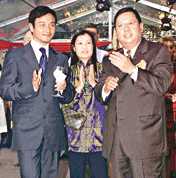 On May 19, Lam (right in photo), being one of the partners of China Club, held an opening ceremony for the club in Singapore. Many famous people and senior government officials have attended. Leslie has been invited as special guest. Singapore President Wong has also attended.

Leslie flew to Singapore just to attend the ceremony. He was in good mood when he saw the reporters. He said to the reporters, '.....actually I have arrived yesterday, and last evening I have already tried some good food, really delicious........ I will be leaving Singapore immediately after the ceremony........myself and Tang (one of the partners of the China Club) are very good friends, that's why I have accepted the invitation.......'

Reporters asked Leslie, '.....are you a member of the Club?.......' Leslie said, '...yes ......'

Leslie also said, '......my holiday has just started, really relaxed and enjoyable!.....'
May 24, 2001 Attended Birthday Party
from AppleDaily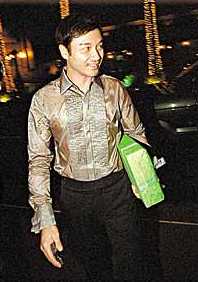 The day before was famous agent Chan Chi Keung's 60 years old birthday. He held a birthday party with buffet dinner in Yeung Ming Shan Chong in the evening and has invited lots of relatives and friends. The party was arranged by Lam Kin Auk, one of the owners of China Club. Many famous people like Ho Chiu King, Leslie Cheung and Jacky Chan have also attended the celebration. That evening, Leslie wore a see-through shirt.
Remarks:
Hey Leslie! What have you bought for Chan as birthday present? Rectangular gift box..... emm...... quite difficult to guess!!! Any hint? heehee......
Not telling anybody? ok! Will go and ask Chan then! haha!
May 27, 2001 'Happy Together' scenes in BMW advertisement
BMW Advertisement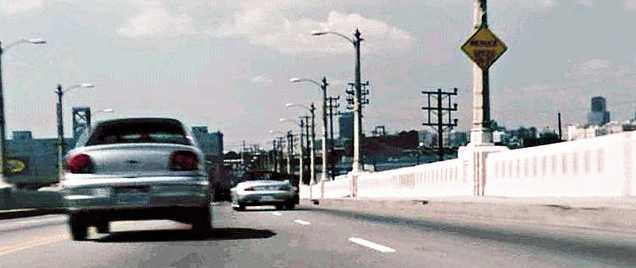 from movie 'Happy Together'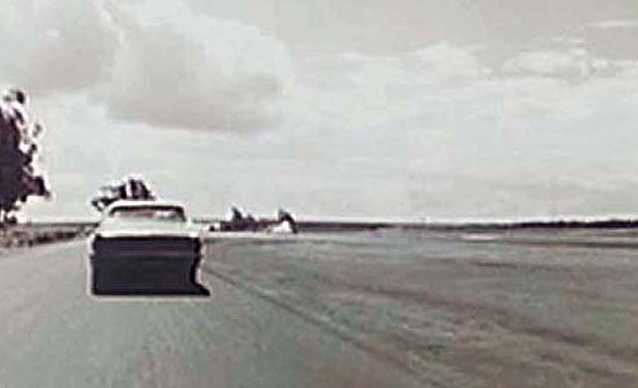 from movie 'Happy Together'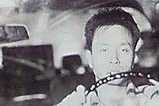 BMW Advertisement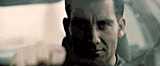 Recently, film director Wong Kar Wai has filmed an advertisement called 'The Follower' for BMW.

In the advertisement, there are scenes similar to Leslie's film 'Happy Together'. There was a shot in the advertisement showing the driver speeding on the motorway (highway/freeway) in America. This was very similar to Leslie driving in Argentina in 'Happy Together'.
Remarks:
emm...... interesting..... how come the advertisement is for BMW, yet, the BMW is not in the main focus? But, the other car (what car is it?) is in main focus?!
From the photo, looks to me it's the BMW Z3 model? As far as I remember, that model has already been out for quite a long time! I have got one when it first came out. My comment on that model is, if you love high performance sports car, you will certainly feel disappointed!! BMW M3 is the best for speeding or doing 180! As for Z3, it's good as a toy car, just like the Volks Wagon Beetle!
BMW Z3 has been used in a recent 007 film, so, of course, to some extent, people will have the wrong impression that it's extremely high performance!!!!.
If you prefer a more unusual look among the BMW series, M8 is quite a good choice (don't know if it's still available, I had it similar time as I got the Z3, ie a few years ago), the look is completely different from the normal 3-series, 5-series, 7-series. I would describe the M8 very similar to Mercedes SL, in terms of price and performance.
May 28, 2001 Beijing Ocean Museum (from Sina)
On May 28, in the Beijing Ocean Museum, Beijing Ruby Film Company has held a press conference for the TV series 'Ocean Museum Meeting'. The conference started after the dolphins show.

Leslie has also attended the press conference. According to that film company, Leslie will be cooperating with them on two films, one of which will be having Leslie as the film director.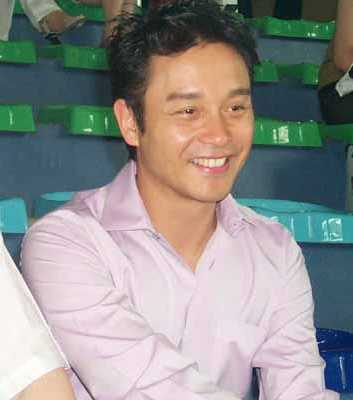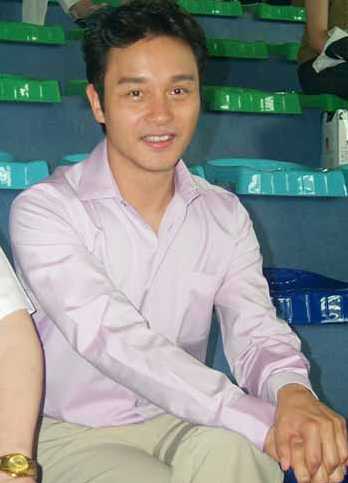 Remarks:
Oh! Dolphins show! I like that!! I wish I were there to watch the show as well!!
Leslie! You are very good looking in those photos!