News
July 2, 2001 Esprit Open Ceremony in Shanghai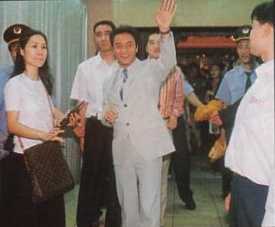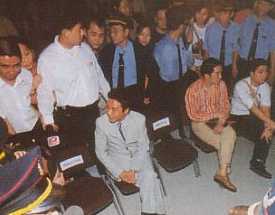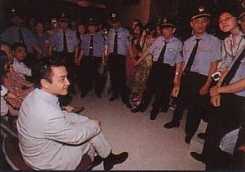 from Mingpao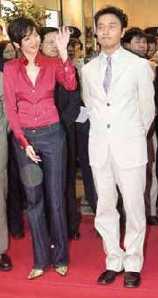 from Mingpao from The Sun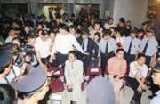 Esprit Fashion and Salon has a new branch in Shanghai. On 23 June, Leslie Cheung, Anita Mui and Sandy Lam were invited to the open ceremony to cut ribbon.
Leslie was warmly welcomed by his Shanghai fans. The ribbon cutting ceremony was held at half past three, despite of heavy rain, lots of fans waited for Leslie hours before the ceremony. They waved flags and shouted Leslie's name when they saw Leslie. Some fans attempted to rush forward to see Leslie but were stopped by security guards.
Some fans also went into the shop, when Leslie sat down, they tried to request for signatures and photos.
Leslie was in jolly good mood that day. Due to his fans' warm welcome, Leslie suggested to go and say hello to his fans so that the fashion show can start.
Leslie left at around half past four when the show started and all lights were out.
July 20, 2001 Special Guest
Yesterday, Alan Tam expressed that he would like to invite Leslie Cheung, Sam Hui, Andy Lau and Jacky Cheung as his concert's special guest.
Remarks:
Leslie, did you hear that news?? As far as I remember (from previous news), you have some films coming up soon......., isn't it? Should be too busy to do other things.........am I right?