News
Aug 8, 2001 Attend Tsui Hak's wife's birthday party
Yesterday night, Leslie attended film director Tsui Hak's wife's birthday party. Anita Mui and Lam Ching Ha were there as well.
Aug 10, 2001 2001 CASH Music Prize
from Mingpao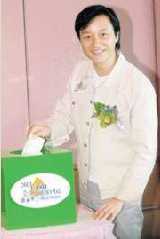 from The Sun


After a long holiday, yesterday, being CASH's 'Music Representative', Leslie attended the '2001 CASH Music Prize' press conference. Leslie believes that as the competition result will be based on more than 2000 members' votes, it should be fair and without any political issues behind. That's why he finds that very meaningful.

To avoid rumours, Leslie has withdrawn from being one of the candidates.

Leslie said that being 'Music Representative' for more than half a year, he has done nothing that he is embarrassed of. He said other prize ceremonies are good as well, just that he finds this one very meaningful. He will attend the ceremony to cheer for the others. However, he hasn't made up his mind who to vote for.

Leslie has been on holiday after the 2000 Passion Tour concert. He said although he is still on holiday at present, yet, he has already started discussing about his new film.
Remarks:
Leslie, how was your holiday? Relaxing?
Glad to see you again!
Aug 11, 2001 Party in Grand Hyatt Hotel
from The Sun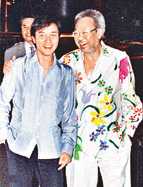 The night before, Leslie attended Lam Ching Ha's party to celebrate her baby daughter's full month after birth.

Leslie looked a bit drunk when he left the party. When being asked what gift he has bought for Lam's daughter, Leslie said '..... baby clothes..... I saw her daughter, very sweet and cute!........' He then left in Chan Chi Keung's car (right).
Remarks:
Oh, Leslie, are you a good drinker?? How much have you been drinking?
Would it be easy to get you drunk? heehee............
Aug 20, 2001 Attended Dog Show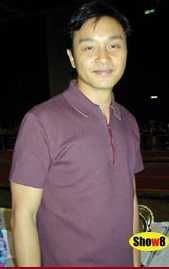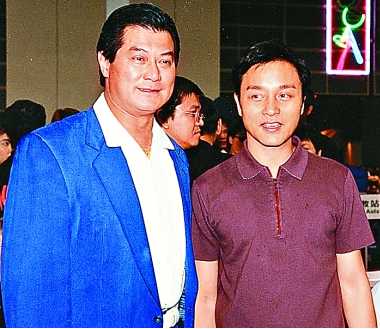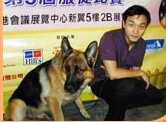 from The Sun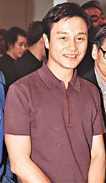 from Mingpao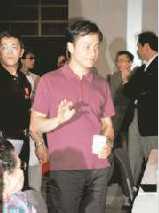 Yesterday (Aug 19th), Leslie attended the dog show at the Convention Centre in Wanchai as special guest to present the prize.
Although Leslie did not agree to have an interview, he was in jolly good mood!
Remarks:
Hey, Leslie, where is 'bingo'??